Seared And Stuffed Flank Steak.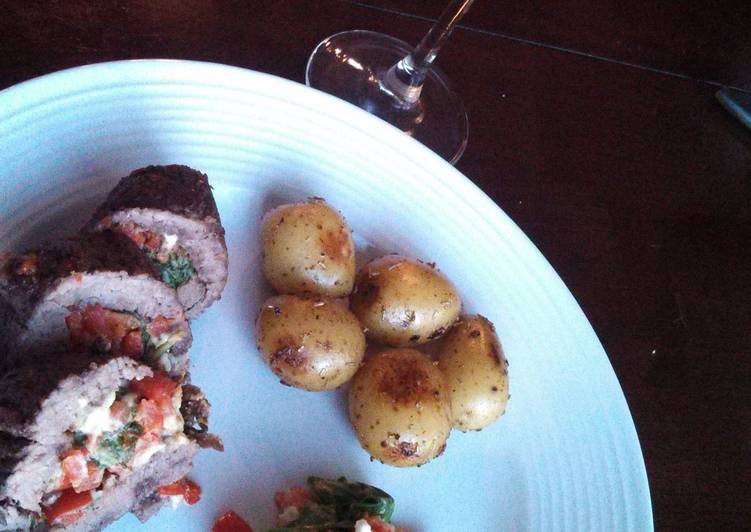 You can cook Seared And Stuffed Flank Steak using 11 ingredients and 15 steps. Here is how you cook that.
Ingredients of Seared And Stuffed Flank Steak
It's 1 lb of Flank steak.
You need 4 oz of Fresh spinach.
It's 1 of Roasted red bell pepper.
It's 1 of Roasted Roma tomato.
You need 3 oz of Blue cheese.
You need 2 tbsp of Flour.
You need 1 of Egg yolk.
It's 1/2 tsp of Garlic powder.
You need 1/2 tsp of Onion powder.
It's 1/2 tsp of Freshly cracked pepper.
You need 1/2 tsp of Mediterranean Sea salt.
Seared And Stuffed Flank Steak instructions
Preheat the oven to 425°F..
Place the grain of the steak from front to back (lengthwise from your body)..
Use a very sharp knife and butterfly the steak. Accomplish this by placing your knife horizontally to the ground and making a slice through the middle and opening the steak up like a book..
Roast the pepper and tomato then dice..
Add all the stuffing ingredients to a mixing bowl and combine..
Layer the stuffing on the meat..
Roll the meat so it retains it's long tubular shape and prevent the stuffing from escaping. Stuff escaping bits back in there. Explain that the meat is its home. "Are you too good for your home? Get in there!!!".
Use cooking twine to retain the tube shape. Wrap it around the beef from the bottom and tie on top. Tuck the ends under the bottom and secure with twine..
Wrap the steak with Saran Wrap and marinate for 30 minutes..
Break out a baking pan and use a non-stick cooking spray to coat..
Place the steak on the tray..
Cook for 25 minutes..
Then broil for 8 minutes, rotating halfway through..
Remove from the oven and allow to rest for 5-10 minutes before serving..
Slice and serve hot..